UNIPORT Post-Utme Admission Screening Exercise 2020/2021 Session.
The University of Port Harcourt hereby invites candidates who chose the University as first choice in the 2020 Unified Tertiary Matriculation Examination (UTME) and obtained a minimum score of 180, to apply for Post-UTME Screening Exercise for admission into the University.
Candidates MUST be sixteen (16) years of age or above by October 2020, to be eligible for the exercise.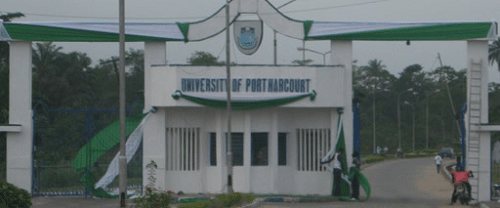 UNIPORT Post UTME Application Procedure:
Registration is online, therefore, candidates are not expected to be present physically on the University Campus, but advised to register from any location.
Eligible/ Cleared candidates are to visit https://utmedetails.uniport.edu.ng/welcome_utme.php and input UTME Registration Number and confirm pre-loaded UTME details.
Generate Remita code for payment with your master, visa or verve card etc OR Print out Payment Slip and proceed to any of the following Bankswith Remita platform (ACCESS BANK PLC, ECOBANK PLC, FIDELITY BANK PLC, FIRST BANK PLC, FCMB, UBA PLC, AND UNIPORT-CHOBA MICROFINANCE BANK) and make payment of N2,000.00 only.
Obtain a Remita receipt showing an Access Code from the Bank teller confirming the payment.
Proceed back online and Login with your UTME Registration Number and the Access Code on the payment slip.
Complete the Form online as requested.
Upload your passport photograph with red background not more than 1 x 1 inch.
Click on the "submit button" and print Photo Card for the Screening Exercise clearance.  Reprint Photo Card a day to the examination. Note the date and time of Screening on the Photo Card.
NB:- Candidates must ensure that their O'Level results are uploaded to JAMB website as soon possible as those who do not, will not be considered for admission. Candidates must ensure that they register with their own valid personal telephone (GSM) numbers and email addresses.
SCREENING DETAILS:
The UNIPORT management has announced the new screening exam dates for 2020 post-UTME candidates as follows;
Date/Venue
ASHGROOVE ACADEMY
BASIC STUDIES UNIT
ICTC COMPLEX
Monday 30th November 2020
CIVIL ENGINEERING,

MECHANICAL ENGINEERING,

SSLT

ENGINEERING (EXCEPT CIVIL & MECHANICAL)
EDUCATION (ALL DEPARTMENTS)
Tuesday 1st December 2020
ACCOUNTING,

MANAGEMENT

CSSW,

POL. SCIENCE,

SOCIOLOGY,

GEM,

AGRICULTURE (ALL DEPARTMENTS),

ECONOMICS

Wednesday 2nd December 2020
LAW,

FINANCE AND BANKING,

HOSPITALITY MGT. & TOURISM,

MARKETING

LINGUISTICS & COMMUNICATION STUDIES,

THEATRE & FILM STUDIES

FFL., RCS., FAD,

HISTORY & DIPLOMATIC STUDIES ,

MUSIC, PHILOSOPHY,

ENGLISH STUDIES.

Thursday 3rd December 2020
DENTISTRY,

COMPUTER SCIENCE

PLANT SCIENCE & BIO.,

MATHS/STATISTICS,

MICROBIOLOGY,

ANIMAL & ENVIROMENTAL

BIOLOGY,

GEOLOGY,

PHYSICS,

PURE & IND. CHEMISTRY

BIOCHEMISTRY
Friday 4th December 2020
PHARMACY,

ANATOMY,

PHYSIOLOGY

NURSING
NURSING
Saturday 5th December 2020
MEDICINE AND SURGERY
Mobile Phones, iPad, iPod, Walkman and similar gadgets or any extraneous materials will not be allowed into the Screening Venue and its environs.
CLOSING DATE
Candidates must apply within the Registration period as the online link for the Application Form will be disabled at Mid-Night on Friday, 28th August, 2020.
NOTE:
Inconsistency in name or picture on Registration Slip is not acceptable to the University and may lead to disqualification of affected candidates. Candidates' names on their O'Level Certificates, UTME Results and other registration documents must be the same.
Candidates who chose the University as second choice and wish to be considered for admission can apply for the Screening Exercise ONLY when they have made a change to the University of Port Harcourt as their First Choice. Such change must be made latest Friday, 21st August, 2020.
PARENTS AND GUARDIANS, AS WELL AS UNINVITED SECURITY AGENTS WILL NOT BE ALLOWED INTO THE CAMPUS ON THE DAYS OF THE SCREENING EXERCISE.
Best of luck To You all…
CampusPortalNG Team