UNILAG Gets New Vice-Chancellor.
The Governing Council of the University of Lagos (UNILAG) at their meeting on Friday, 27th October 2017, approved the appointment of Professor O?uwatoyin Temitayo Ogundipe, as the 12th Vice-Chancellor of the institution.
The outgoing 11th Vice-Chancellor, Professor Rahmon Bello is expected to vacate the 11th floor office on the 11th November, 2017, as Ogundipe assumes office.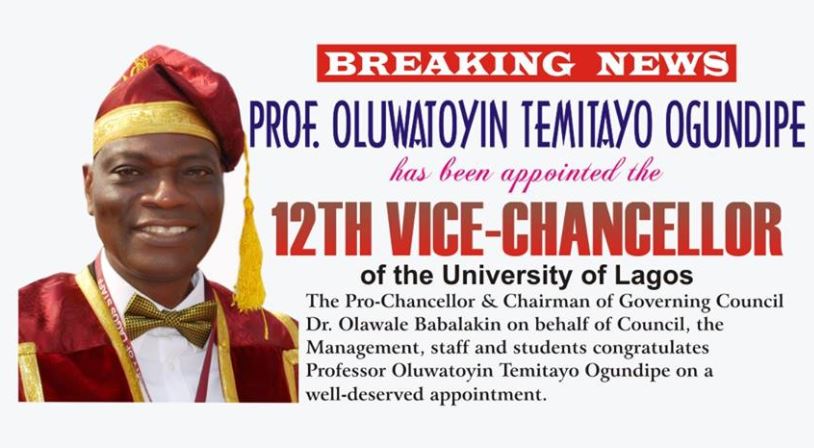 In a release by the school's information unit, the three candidates that contested for the VC position were: Professor Oluwatoyin Ogundipe, Professor Olukayode Amund, and Professor Ayodeji Olukoju.
Among the three contestants, Ogundipe coincidentally scored the highest mark in the exercise to emerged the substantive Vice-Chancellor of UNILAG.
Professor Ogundipe until his appointment, was the Deputy Vice-Chancellor (Academics and Research) of the university.
He is a Professor in the Department of Botany and also the Director of Academic Planning at the University of Lagos. He was born on May 31, 1960.
He is married and blessed with three children. Ogundipe was appointed professor 2002, and gave his inaugural lecture in 2005 six months after the announcement of his professorship titled Botany: Root in the Past, Route to the Future, delivered on the December 21, 2005, at the University of Lagos, Lagos, Nigeria.