PCN Inducts UNIBEN Pharmaceutical Graduates
The Pharmacist Council of Nigeria (PCN) has inducted about 110 Pharmacy graduating students of the University of Benin during the 40th oath-taking and induction ceremony of the institution's Faculty of Pharmacy.
Addressing the inductees, the Registrar of PCN, Mr. N.A.E. Mohammed, encouraged the graduates not to be discouraged about the current state of the nation's health sector.
He added that there are many younger professional that could return the health sector to full strength.
Mohammed noted that pharmacists are some of the most respectable professionals in the world and warned them not to involve in any form of sharp or illegal practices.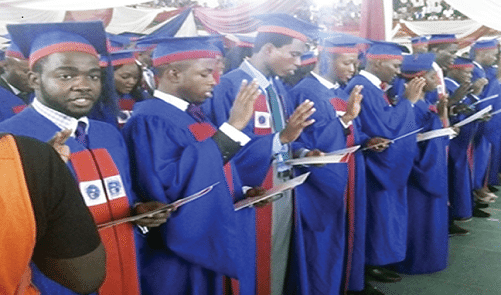 The registrar reminded them how privileged they were to have been among the few to have studied pharmacy in a country that is in a dire need of professional medical personnel.
The best graduating student, Amaka Eunice Ukwuhaiwe, in her valedictory speech at the oath-taking ceremony, which she read on behalf of her colleagues, thanked God for His benevolence on them.
She said that her academic achievement and success was not the function of her struggle, but that of the finger of a divine intervention.
The event was attended by several dignitaries, parents and staff of the faculty.
Stay updated with all UNIBEN News plus other Nigeria Education news; Always Visit www.CampusPortalNG.com
Your comments are appreciated, let us know your thoughts by dropping a comment below

Don't forget to share this news with your friends using the Share buttons below…