MAPOLY Mop-up Entrance Screening Examination Date 2015/2016 announced.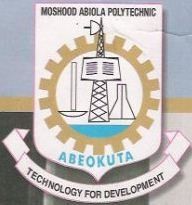 The Management of Moshood Abiola Polytechnic, Abeokuta has announced Tuesday, 15th December, 2015 as date for Mop-up examination into all Full-Time and Part-Time National Diploma and Higher National Diploma Programmes of the Polytechnic.
The examination, which will hold on Tuesday, 15th December, 2015 by 9 O'clock in the morning, is expected to be attended by candidates, who did not take part in previous examinations but must have completed the online application and screening forms.
Entrance into the examination halls shall be based on the provision of the print-out of the completed on-line screening form and photocard.
Candidates are enjoined to visit the Polytechnic's website on www.mapoly.edu.ng
Best of luck To You all…
CampusPortalNG Team

Stay updated with all MAPOLY News plus other Nigeria Education news; Always visit www.CampusPortalNG.com.
Your comments are appreciated, let us know your thoughts by dropping a comment below

Don't forget to share this news with your friends using the Share buttons below…