Six MAPOLY Lecturers Sanctioned For Malpractice.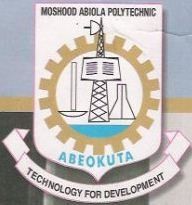 The management of Moshood Abiola Polytechnic (MAPOLY), Abeokuta has suspended six lecturers over their alleged involvement in result manipulation and gross misconduct.
In a letter signed by the Deputy Registrar (Establishment) of the institution, S. A. Ashaye, the affected lecturers were to be demoted and barred from ?any position of authority /responsibility for the next five years with effect from September 27, 2016.?
The sanctioned lectures include; Mr Mukaila Ademuyiwa, Director of the School of Business and Management Studies; Mr Mutair Ajayi, Head, Department of Accountancy; Mr Rasheed Oduwole, Lecturer at the Accountancy Department; Dr Munir Adesola, Lecturer; Mr Pius Agbebi?, Sub-Dean; and Mr Kayode Ogunwede, Lecturer.
?The decision to sanction the academic staff followed the consideration of the report of Staff Disciplinary Committee (SDC) of the polytechnic on alleged case of result manipulation in the School of Business and Management Studies.