MAPOLY Holds 2016/2017 Session Matriculation Ceremony.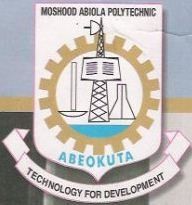 A total of 2,850 students were admitted into the Moshood Abiola Polytechnic (MAPOLY), Abeokuta, during the 2016/2017 session matriculation ceremony for both full-time and part-time candidates held on Thursday.
Speaking at the event which took place at the OGD Hall in the polytechnic, the Rector, Prof. Oladele Itiola, urged the fresh students to be focused, committed and disciplined, so as to graduate in flying colours.
He told the students to be prepared to contribute their quota by acquiring knowledge to lift the nation out of the global economic challenges.
READ ALSO: UNIZIK Admits 7,820 Students for 2016/2017 Session
"You have enrolled into a tertiary institution at a time our dear country is in dire need of appropriate human capital to help her out of the global economic challenges.
"We value not only your academic achievements and potential, but also look forward to the character traits, skills and competence that will make us proud of you as mentors and parents.
"Your colleagues who were here before you have laid credence to our exploits in national development in such areas as communication, engineering, business management and sciences," he said.
RELATED: UNIBEN Admits 10,000 Students for 2016/2017 Session
The rector explained that the institution would continue to create an enabling environment for quality teaching and learning through lecture spaces that are conducive and 24-hour uninterrupted electricity supply.
In his reaction, the Director of Students Affairs, Mr. Seyi Sobande, advised the students to abide by the institution's rules and regulations.
Sobande urged the new students to always report any challenge to the appropriate authority, and to desist from joining bad associations.