No fewer than 12,500 candidates participated in this year's Post-Unified Tertiary Matriculation Examination (UTME) Screening Exercise, conducted by the Federal University of Agriculture Abeokuta.
The Director of Academic Planning, Prof. Olukayode Akinyemi, while reviewing the exercise, commended the efforts of the Federal Government in bench-marking the admission process, because it would allow many prospective students to have access to other levels of higher education such as the Polytechnics and Colleges of Education.
He stated that it was imperative for Universities to have their own bench-marks, to maintain high standards. He noted that there were still other ways of screening-out candidates with bad characters even though they might have met the basic academic requirements in the interest of the system.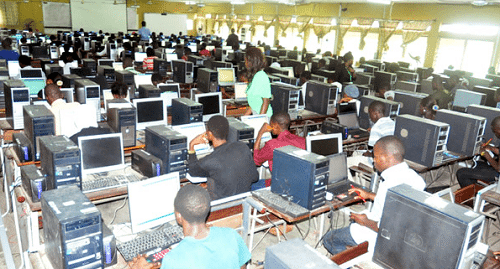 Prof. Akinyemi, however, advised candidates who could not be admitted into FUNAAB not to be discouraged as there were other institutions that could still admit them, because for now, FUNAAB could only admit about 3,500 applicants.
Also speaking, the Deputy Vice-Chancellor (Academic), Professor Adekojo Waheed, said the exercise was a huge success in a bid to getting the best candidates for the University. He likened the candidates to raw materials that any company would need before manufacturing its products.
Prof. Waheed added that the University was not prepared to start training and re-training half-baked candidates when admitted, as this could lead to a draw-back in attaining the set objectives of FUNAAB.
While comparing the screening exercise with those of previous years, Prof. Waheed listed the improvement recorded to include the adoption of finger-print screening and biometrics by every candidate before being allowed to sit for the examination.
He said this was made possible because every candidate's data had been domiciled with the University with the relevant information, to guard against impersonation.
In addition, he noted that candidates were not allowed within the screening premises, to use their mobile phones, electronic devices, bags and luggage as part of preventive measures against cheating.
The Chairperson, Admissions Committee of the University, Professor Oluyemisi Eromosele, also gave a pass-mark to the exercise.
She described it as highly successful as everything went on fine as scheduled in terms of logistics.
Prof. Eromosele, who doubles as the Dean, College of Physical Sciences (COLPHYS), re-iterated the commitment of FUNAAB at encouraging students to study agriculture-related courses, when compared with other programmes run by the University.
Stay updated with all FUNAAB News plus other Nigeria Education news; Always visit www.CampusPortalNG.com.
Your comments are appreciated, let us know your thoughts by dropping a comment below

Don't forget to share this news with your friends using the Share buttons below…