Apply Nigerian Immigration Service Recruitment 2023.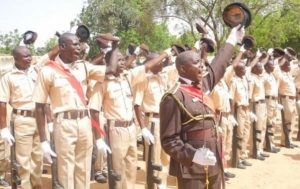 The Nigerian Immigration Service (NIS) wishes to inform interested candidates and the general public that the 2023 recruitment of the service is currently ongoing.
General Information: This is to notify candidates and the General Public that www.nisrecruitment.org.ng is the official Nigerian Immigration Service URL that links to the Recruitment and Enlistment Portal. Any website or portal apart from this portal is considered a SCAM. Any candidate who visits any other website does it at his/her own RISK
THE ONLINE APPLICATION IS FREE.
General Requirement for Recruitment:
– Applicant must be Nigerian by birth.
– Applicants must be medically fit and present a certificate of medical fitness from a government hospital.
– Applicant must be of good character and must not have been convicted of a criminal offense and must not be a member of a secret society/ cult.
– Applicant must be free from financial embarrassment.
– Applicant must be between the ages of 18-30 years.
– Applicant's height must not be less than 1.65m for males and 1.60m for females.
– Applicant's chest measurement of not less than 0.87m for men.
Positions Available:
Category A: Superintendent Cadre: 
i. Superintendent of Immigration (SI) compass 11 professional (Doctors): Applicants must possess a first degree in MBBS from a recognised institution of higher learning and an NYSC discharge/exemption certificate.
ii. Deputy Superintendent of Immigration (DSI) CONPASS 10 professional (pharmacists): Applicants must possess a first degree in Pharmacy from a recognised institution of higher learning and an NYSC discharge/exemption certificate.
iii. Assistant Superintendent of Immigration II (ASI) CONPASS 08: Applicants must hold a bachelor's degree, Higher National Diploma or its equivalent from a recognised institution.
Category B: Inspectorate Cadre: 
i. Assistant Inspector Immigration (All) General Duty CONPASS 06; Applicants must be holders of a National Diploma, NCE or Advance NABTEB obtained from recognised institutions.
Category C: Assistant Cadre:
i. Immigration Assistant; (IA I11) CONPASS 03 General Duty: Applicants must be holders of GCE Ordinary Level, SSCE/NECO, GCE or its equivalent with a minimum of 4 credits in not more than two (2) sittings, which must include English and Mathematics.
ii. Immigration Assistant III (IA III CONPASS 03 Artisans: a) motor driver b) Mechanic: Applicants must be holders of ordinary level SSCE or its equivalents and appropriate trade test certificate."
How To Apply for Nigeria Immigration Service Recruitment.
Interested candidates are to visit the Nigeria immigration recruitment portal via the link below;
>>

https://cdcfib.career

Select your preferred Cadre: Superintendent, Inspectorate, or Assistant Cadre.
Read and understand Job function requirements to ensure that you are qualified and then proceed by clicking 'APPLY FOR THIS JOB'.
Complete the registration form by selecting your job function and basic information.
Click and read through the Terms and Conditions on the link provided and check the box beside the link to confirm that you have read and understood the terms. Then confirm you are not a robot and click the APPLY button.
Go to your email and click the verification link sent to you to confirm your account.
You will be redirected to a login page. Sign in with your email and password to access your dashboard and begin your application.
Fill in all the required data and upload your passport and documents to specification. Read through the specifications carefully and adhere to the instructions to be able to upload successfully.
Read the  Disclaimer Note and confirm by clicking the checkbox beside it. Then click on 'Confirm Data' to lock your data for final submission.
Print the Registration Slip after submission and also print a copy of the Guarantors form.
Best of luck To You all…
CampusPortalNG Team