The Independent National Electoral Commission (INEC) has further extended the deadline for the collection of Permanent Voter Cards (PVCs) until Sunday, March 22nd, 2015.
The two weeks extension is to enable the electoral body complete the distribution of the cards.
Secretary to the Commission, Mrs Augusta Ogakwu who made the announcement in Abuja said that the extension will finally avail every registered voter, yet to collect his/her PVC, the opportunity to do so in readiness for the general elections.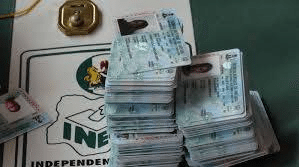 The commission said on that it has succeeded in distributing 80.24 per cent of the Permanent Voter Cards to their owners.
This figure indicated that 55,232,874 out of the 68,833,476 registered voters had picked their PVCs.
Stay updated with all STUDENT News plus other Nigeria Education news; Always visit www.CampusPortalNG.com.
Your comments are appreciated, let us know your thoughts by dropping a comment below

Don't forget to share this news with your friends using the Share buttons below…