Africa- The University of Zimbabwe has dismissed claims that former First Lady of the country, Grace Mugabe, was not the author of her controversial doctorate thesis.
Speaking in defence of the university on Friday, the Vice Chancellor, Mr. Levi Nyagura, said that that the university stood by its decision in awarding the ex-first lady her PhD and maintained that the thesis had been at the university library since 2014.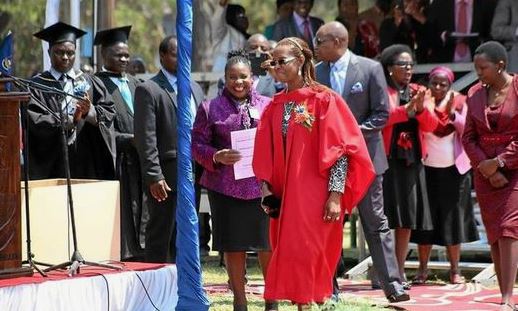 He explained that those making the accusations were "ignorant messrs and doctors" without the capacity to supervise a PhD student.
"There is no way that they could have supervised the candidate because a doctorate is not done by a teaching department. It is done by a post-graduate centre," Nyagura said.
He said the PhD was supervised by two professors, who had also supervised ex-deputy president Joice Mujuru.
This came amid reports that the university's sociology department teaching staffs had challenged the accreditation of the PhD to Grace. (NAN)